I'm a DIY nut!
It's fun for me to think outside of the box and create a look that others might not think of.
When it comes to lighting, most people will go to a store or look online to see what's trending, what's available, what's affordable.
If you stretch your mind a bit and look beyond the typical lighting store, you'll see so many more fun options.
I've gathered some for you here.
Lighting & Design
Lighting has purpose.
It illuminates a space, a task or sets a mood.
It can create drama, atmosphere, intrigue and a-has in a room.
It serves a purpose.
So why not have fun with it?
Inspiration
Time to shine!
Click To Tweet
I love these lanterns. They have a soft spot in my heart. What I really love most is how they grouped them.
When you find like items and choose to feature them as a collection, always choose to use an odd number.
Even is boring.
Odd is interesting.
Brittany at Pretty Handy Girl made this lampshade by decoupaging pages from a World Atlas to an existing lamp shade.
I did something similar by decoupaging old photographs of my mother-in-laws family onto a lampshade. My husband built the base I designed and we gave it to her for her birthday. She loved it!
If you're a book lover like Dan Faires is, you'll want to gather your favorite novels and turn them into the perfect reading light.
Consider the colors in your room to decide on the books you use. If you can't find books in the colors you need, paint them.
Kristen did an amazing job knocking off this Pottery Barn inspired rope lamp. It's so good it might tie you up in knots wondering how she did it.
The Pottery Barn lamp retails for $245. She made this for $25!
Hats off to British designer Jake Phipps! He collected and hung a variety of bowler hats to create quite a fashion statement! Whether hung alone or grouped together, they look amazing.
Think of the different types of hats out there. What about cowboy hats? My fave!
Should you take a project like this on, be sure to talk to a lighting expert and use the proper wattage. These will use a lower wattage bulb due to heat.
What hats come to mind for you?
I came across this on Pinterest and Google. I love how they took the branch, mounted twinkle lights to it and hung it from the wall. When plugged in, it's a true natural wonder with the back-lighting.
I'd recommend placing this near a wall outlet, or you could have it hardwired by an electrician and have a switch for convenience. Again, talk with a professional.
Need to know how simple it is to wire a lamp?
I have to say I'm super impressed with what Deb created. She was inspired by a gorgeous sconce but it was out of her budget. So she created her own version. While I'd prefer to get a bit closer to her inspiration photo, for my own personal taste, I'd give her a HUGE thumbs up on the end result.
Imagine if you live on a gorgeous treed lot. Your favorite tree falls due to a storm or a very large branch breaks off. Before you cut it up and haul it off to be mulched, you have a brilliant idea to cut a slab off it and turn it into a gorgeous chandelier. This is fairly simple to accomplish.
To buy something like this photo could cost $1900 – $3500. What if you could make it for $100-200?
The biggest challenge is to find the great piece of wood which is the "base" to this creation. Finding the lights is easy.
Here is the
electrical cord
and
sockets
. The slab…you're on your own for finding the right one. But here's a great tip. Look for the "clocks" made by Boy Scouts that end up getting donated to a thrift store. Or go to a live slab distributor and show them this picture for help. They will most likely be able to help you.
Look how beautiful this idea from Wendi at H2O Bungalow is. A simple drum shade can be found all over the place, along with a lamp kit.
Find a stencil you love that ties into your decor, and get to work. Wendi selected a beach theme and shares how to stencil on fabric.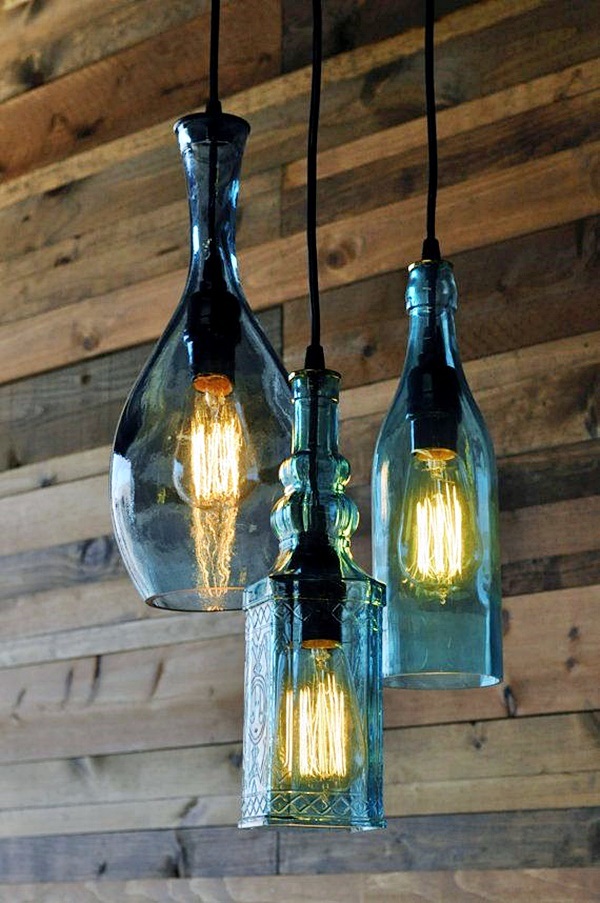 Any bottles will do. Look for a similar color for consistency or have fun by mixing and matching, if that's your think. If you're not a glass cutter expert, you can probably take them to someone who is. Once the bottoms are cut off, simple install the hanging light kit, find your power source, hang the lights, and turn them on.
Call an electrician for more extensive help.
I like both these galvanized options. For the price of $89-99, I think their fairly reasonable. If you are lucky enough to find some galvanized buckets at a flea market, and I know you can, you can save yourself some moolah and have the pleasure of DIYing these yourself.
Either way, they will add a great statement to your space.
 With these, you can have the whole world! I love how they drilled along the edges of the countries to add a glow to what was a solid surface. Clever!
The texture these baskets give to this room is ahhhhhmazing!
Rustic chic…
I love what Kristin at Hunted Interior did with her brass bowl. Now imagine if you have an old copper pot. I've got copper pots that belonged to my grandmother. And some are quite grand in size! What a statement they'd make if hung, especially in multiple numbers.
Melissa at The Inspired Room shows you how easy it is to turn a bottle into a lamp. Vintage bottles are the rage right now. You can pay a pretty penny for some.
If you like this look, keep your eye open at garage sales, flea markets or even Homegoods. I love shopping here; I feel like a kid in a candy store.
That's It
I hope these have inspired you to see all the options you have with turning items you never thought of into interesting light fixtures. The ceiling is the limit with your creativity.
What's one thing you own that could make a cool lamp or pendant?
Think of your vases, jars, baskets, pots, etc.
Curious but maybe slightly afraid?
Which one is your favorite inspiration?
Pose your thoughts in the comment box below and let's discuss.
Cheers to you and your beautiful home!